Specifically designed to protect the highest security establishments, AEGIS 5000 series automatic bollards offer US Department of State K12 and PAS68 levels of protection. This is the highest level of threat protection in the industry.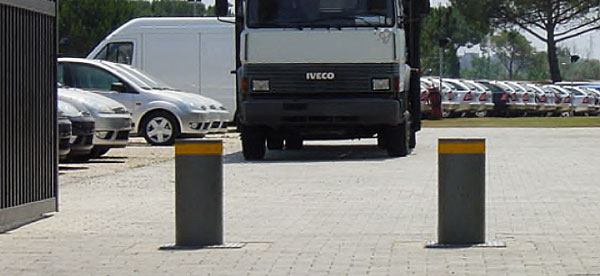 A typical industrial site installation of the AMP5000
AMP 5000 bollards are sited within a specifically designed reinforced concrete underground housing. This acts with the bollards to form an immovable monolithic structure, capable of bringing to a halt large vehicles of up to 10 tonnes weight traveling at 80kph.
Fixed bollards or fully automatic variants are available, catering for every type of secure installation, including shallow foundation units. APS Aegis are able to supply fully linked multiple bollard systems with any type of access control system.
Available fixed or fully automatic bollards
| | |
| --- | --- |
| Product Code | Model |
| CP-A5K9AM-P | 900mm high mild steel automatic bollard in Anthracite grey |
| CP-A5K9AS-S | 900mm high stainless steel automatic bollard with brushed finish |
| CP-A5KIAM-P | 1200mm high mild steel automatic bollard in Anthracite grey |
| CP-ASKIAS-S | 1200mm high stainless steel automatic bollard with brushed finish |
| CP-A5K9FM-P | 900mm high mild steel fixed bollard in Anthracite grey |
| CP-A5K9FS-S | 900mm high stainless steel fixed bollard with brushed finish |
| CP-A5KIFM-P | 1200mm high mild steel fixed bollard in Anthracite grey |
| CP-A5KIFS-S | 1200mm high stainless steel fixed bollard with brushed finish |
Standard Specification AMP 5000 Automatic Bollard
Construction
Mild Steel casing and bollard (304 grade stainless steel version is available)
Finish
Polyester powder coated anthracite grey (Stainless steel version has brushed finish).
Dimensions
AMP 5000/900 275mm diameter by 900mm height above ground. Casing extends 1530mm into the ground.AMP 5000/1200: 275mm diameter by 1200mm height above ground. Casing extends 1830mm into the ground.
Control Unit
Supplied with IP 67 rated wall mounted cabinet.
No. of Daily Cycles
Up to 2000 movements per day.
Raising speed
20cm/sec
IP rating
IP 67
Working Temperature Range
-40°C to +60°C
Hazard Warnings
Reflective strip around upper section. Optional LED lighting ring.
Optional Items
Control Unit
Capable of controlling up to 6 bollards supplied with wall mounted enclosure
kemote Control Receiver
Mounted within the control cabinet
kemote Control transmitter
2 Channel key-fob style, (available in packs of 5).
Safety Loop detector
Dual Channel plug in detector