The APS range of Security Road Blockers provides the ultimate in perimeter protection — reliable security where unauthorised vehicles need to be stopped. Designed and developed to provide effective traffic control where other conventional barriers are unable to provide an adequate deterrent. We are a leading road blockers manufacturer.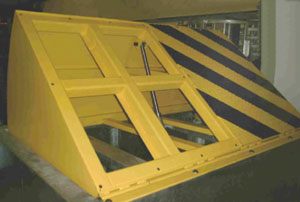 APS hydraulic road blockers have a fully enclosed framework designed to simplify and reduce the cost of the installation process. The enclosed sides eliminates the need for a pre-cast concrete mounting trough. The unit is simply placed on a flat concrete slab within the trench, and back filled with concrete or even sand thus saving time, money and minimising disruption on site.
Ideal for maximum security sites such as Government installations, Royal palaces, Military bases, Police stations, Embassies, Airports etc. Blockers are available up to 7m long with rising heights of between 300mm to 800mm. Quick acting mechanism removes the risk of "tailgating".
Road Blocker System Technical Features:
High strength restrictors to protect the hydraulics from damage should an impact occur
Standard rising and lowering times of between 3 and 5 seconds
Emergency manual override system for use in the event of a power failure
Compatible with all types of access control and safety systems
Fully galvanised frame and blocker unit with painted finish
IP55 rated control panel housing 100% Duty rated
Heavy duty 10mm thick Durbar anti-skid top plates
Continuously welded frames
Cast in place foundation minimises installation costs
Wide range of finishes available Integral lifting points
Options available include:
Emergency 1.0 second raise feature
20 tonne axle load (standard model)
30 tonne axle load for military applications (heavy duty model only)
High temperature resistance / Tropicalisation of control and pumping systems
Three phase or single phase supply
Traffic signals
Customised, and multiple, linked systems available
Access control and voice communication systems
Warning Signs
Safety systems for automatic operation
Recessed bolt heads to the running surface