Multirotor UAV – 10 Km Range
Multirotor UAV – Our multi rotor drone provides you with a system suitable for a range of applications, from surveillance and mapping to SAR and law enforcement.
Our compact and lightweight systems, helps you meet your payload requirements.
Low cost StealthUAV solutions can meet your budget requirements and are superior as compare to Low power systems.
Our UAV maximize flight time and include plug and play hook up to make integration quick and easy

Multirotor UAV – Specifications
Multirotor UAV – StealthRotor RPAS Type VTOL multirotor UAV using long-range RC Control and Mission Planner ground control software.
RPA Structure
Carbon fiber boom configuration with carbon fiber center plate
RPA Composition
Solid 4 part boom with center frame
RPA Dimensions/measurements and mass together with drawings
Max take-off weight: 3.0kg 580mm diagonal motor to motor
Mass
Weight: 3.0kg
Multirotor UAV – Payloads (Specific or generic)
EO Zoom Camera or Thermal imaging camera. Other electronic detection payloads can be fitted to the multirotor
Use of Frequencies
C2 link utilities 433Mhz. Primary control utilizes 2.4 GHz
Remote Pilot Station
Mission Planner running on windows based pc/notebook
Ground Support Equipment
All equipment and spares are contained in the RPS vehicle. This includes the following equipment:
– Battery Charger
– Telemetry Radio
– RPS
– Weather Station
– Fire Fighting Equipment
– Full suite of spares
– Tools
– Generator
– Electrical supply
Flight Recovery System
Multirotor UAV VTOL takeoff and landing

StealthRotor – Performance Characteristics
Maximum Altitude
Maximum altitude is unknown. CAA Limited to 500m AGL
Maximum Endurance
40 – 50 Minutes wind dependent
Maximum Range
10km
Propulsion System
Brushless Motor. 1 x 10000mah Li-Po Battery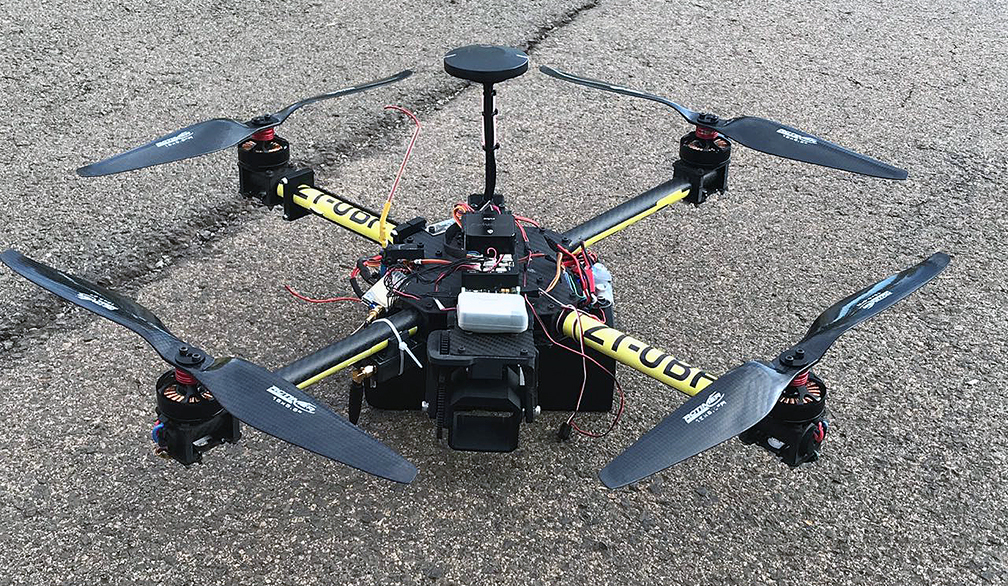 Multirotor UAV Capabilities
RPA Performance Limitations
Not operable in rain or hail.
Required Take-off and Landing Distances and/or area Capable of landing on grass / veld, dirt road and tar.
Take Off & Landing: +- 10m (Square)
Autopilot
Type: Pixhawk
Manufacturer: 3D Robotics
Navigation System
ST Micro L3GD20 3-axis 16-bit gyroscope
ST Micro LSM303D 3-axis 14-bit accelerometer / magnetometer Invensense MPU 6000 3-axis accelerometer / gyroscope
MEAS MS5611 barometer 3DR u-blox GPS
Sensors and/or telemetry
Telemetry limitations is +- 20km
Epiphany Operations works as an enhancement of traditional physical security systems or as a stand alone solution. Our solutions are available through equipment purchase and lease, adding your personnel trained by us, autonomous solutions or as fully turnkey systems.