APS Telescopic gates combine the practicality and contemporary design of standard sliding gates while offering key advantages.
Having two or more telescoping gate leaves moving together allows the gate to open and close much faster than a single leaf sliding unit. This is beneficial at high security locations and improves traffic flow at sites subject to high levels of traffic.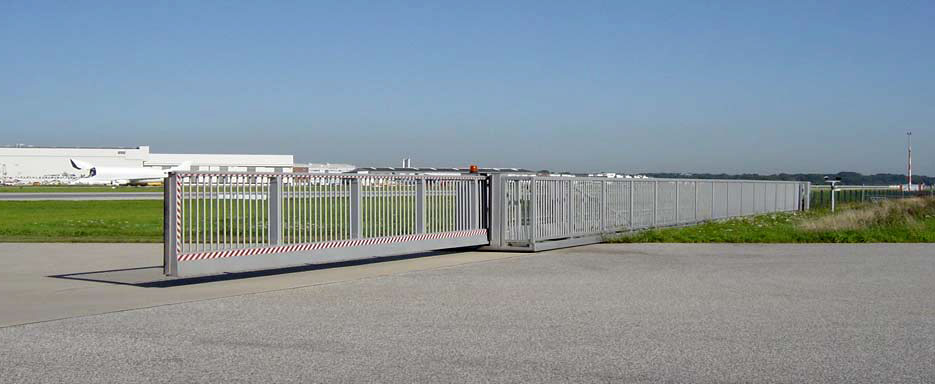 These gates are available in cantilevered and tracked format, with the latter allowing extremely large gates to be installed where conventional systems are unable to match the clear width or travel speed required.
As with all APS gates, automatic telescopic gates are specified to the exact design requirements of the customer and can incorporate decorative panels as required.
Automatic Gates Safety
All our automatic gates ship with an extensive safety package to ensure that they meet or exceed current safety legislation. This is accomplished with rubber buffers on the gate leaf leading edge and to the front and rear of the drive posts. Twin photo-cell light beams are also provided for low/ high vehicle protection. Rotating warning lights and sounders can also be added to the drive posts to indicate when the gates are moving.
Automated version gates have a fully enclosed drive system integral with the full height gate drive post for a clean, contemporary appearance, while at the same time maximising the security and wear-ability of the gate. The fully programmable control board is situated with the drive motor which allows connection to any access control and fire alarm system.
Features
Available in two formats: Cantilever to 16m span, or tracked to 50m.
Reliable and economical electrical drive units with almost silent operation
Safety devices fitted as standard to fully comply with all European regulations
Operation from local key switch or integrated with any type of access control system
Supply only or full supply and installation service, including associated access control and monitoring systems