APS Full Height Security Turnstiles offer secure, efficient pedestrian traffic control. All turnstiles are designed and manufactured to the highest specification, using top quality components and materials to ensure ongoing robust, reliable operation. Contact us for the best turnstile prices UK and worldwide.
Features
Available in a range of colour-coded enamel paint finishes, standard galvanised steel finish or stainless steel
Available in single or double turnstile variations
Available with 3-arm, 120 degree spacing or 4-arm, 90 degree spacing
Manual mechanical or electrical operation with soft start feature
Uni and bi-directional movement
Free two-way rotation in failsafe mode (should there be a power cut, etc.)
Access Control Interface
Full height turnstiles can be fitted with a multi-function logic system, enabling interface with a range of access control systems such as:
Card swipe systems
Coin/token systems
Digital keypads
Induction loops
Proximity readers
Push button or remote control
A range of optional accessories are available including:
Internal lighting for safe 24-hour usage
Warning lights for additional safety
Choice of straight tubular arms (with safety end caps) or U-shaped loops for ease and comfort of use
Non-slip flooring for pedestrian safety
Stadium Turnstiles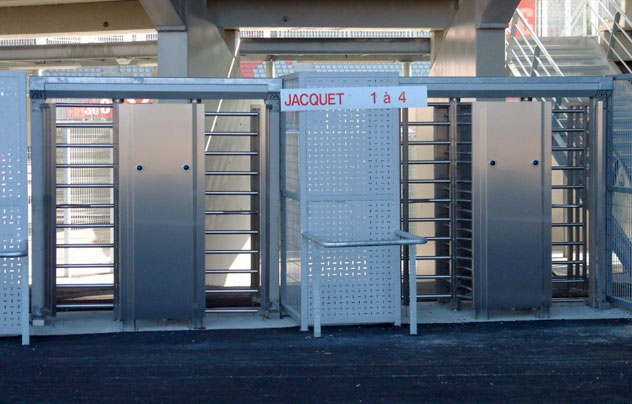 APS offer a range of single and multiple full height turnstiles designed for stadium and other high traffic applications. They are constructed from heavy gauge mild steel with an option for graffiti resistant stainless steel, with matching arms.
The 120 degree spacing allows high traffic flow whilst providing comfort for the user. Turnstiles may be supplied as uni-directional or bi-directional with selectable entrance direction.
Project Site Access Turnstiles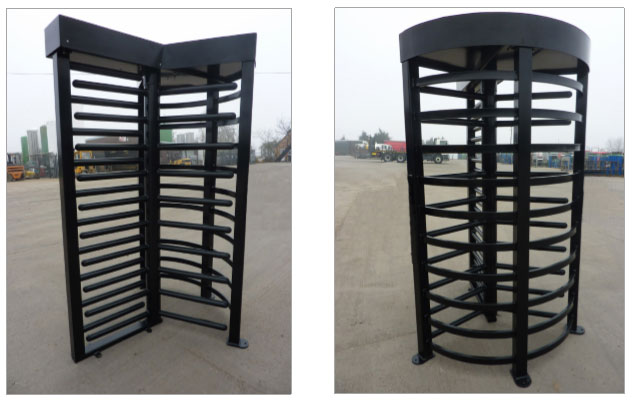 Available with biometric access control